It's still alive... just coming along very slowly.
Nothing too big today... just some updates, new sprites, etc.
Some may not be of the best of quality. >.>
-
Overworld Hakaril Sprites
-
For overworld/map transitions.
Would like to know which set, out of the four, is the best.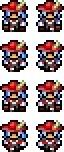 Yeah I am aware that the quality of this one totally sucks ass.
-
Nekoko
-
Made a new sprite pose for her. This will hopefully be her "Ready to Attack" pose.

Still deciding on which one of the two to pick though.
-
Ash Walking
-
Finally got around to making the walking movements for at least one character. Was a pain in the ass, but it worked out.

-
Daniel Hyral
-
For anyone who really cares about this, they may remember that I hope to incorporate secondary playable characters into this, for about two levels per each selectable main character.
So here's everyone's favorite panic-ridden paladin.
Now I don't know/remember if I've already shown these or not... so cut me some slack please if I have already.
That's about it for now, at least of stuff that I can show you. Hope they're not too bad, and hope the quality isn't too crappy. <p>"I don't mind being ogled, ridiculed,
Made to feel miniscule,
If you consider the source, it's kinda pitiful.
The only thing you really know about me is...
...that's all you'll ever know"-- Slipknot "My Plague"</p>
Edited by: [url=http://p068.ezboard.com/brpgww60462.showUserPublicProfile?gid=ashfanrico>Ash] 
at: 6/23/05 16:02