Yeah it's my attempt at making pics with PAINT. Making pics with paint and trying to be funny in some possible way.
Recently gotten into the Dr. Who world a bit. A favorite of mine is those zany (yet ruthlessly aggressive) Daleks.
I just hope this isn't TOO crappy.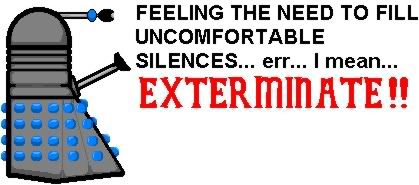 Not a 100% accurate either... but I got as close as humanly possible with the PAINT program of all things.
Comments, Critique? <p>"Uh-Huh... hate to break this to you... but gratuitus panty shots aren't considered a weapon!" --Deadpool to Sailor Moon, "Deadpool vs. Sailor Moon"</p>